I remember the sense of nervousness I got when I was about to go into my first ever interview. My hands were sweating a little, and I had butterflies in my stomach.
A Malaysian Youtuber, Leeroy Wong from Kuching, Sarawak, decided to do a little social experiment in the streets of Kuala Lumpur. He never expected its outcome to be so heartwarming, and it made netizens in tears (ours included).
Leeroy Wong conducted a social experiment where he asked the public to help him with his necktie whilst acting like a first-time job seeker.
In his first encounter, an 'uncle' came to his rescue and started to tie Leeroy's necktie, helping him wear and adjust it. When Leeroy thanked him, the uncle said, "it's ok, we are One Malaysia."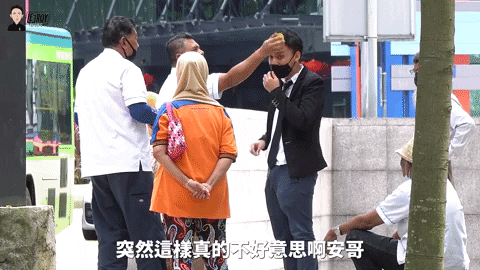 The Malay 'uncle' took out his comb and started coming Leeroy's hair, making it even heartwarming. The 'uncle' said like this looks more "ong". ("Ong" in Chinese is prosperous.)
In another scenario, a lady saw Leeroy struggling, asked Leeroy to come over and said her husband would help him with his necktie.
Another fellow Malaysian help him tie his necktie while consoling Leeroy to work hard as it is not easy to be apart from family.
Ok, prepare for the waterworks.
A Chinese 'uncle' tried to help Leeroy with his necktie. It turns out that the 'uncle' had recently lost his son due to the Covid-19 pandemic.
"Tieing neckties for your son is a special moment. A very meaningful moment," said the Chinese 'uncle'.
Leeroy was stunned for words, and he started tearing up.
The Chinese 'uncle' reminded Leeroy to call his parents and visit them frequently while still can.
Malaysians are still helping out each other. The spirit of unity amongst us Malaysians is very strong, and this social experiment is a good reminder of that fact. It reminded me that no matter how bad things are going to get, we will always help each other. #KitaJagaKita